Owners, Barbara & Larry Bouchelle
Phone Number: 972 247-2147 ......... Email: bouchel@sbcglobal.net
---
| Home | Kittens| New Arrivals| Male Cats | Female Cats | Photo Gallery | Quick Pick |
---
Persian & Himalayan Kitten Breeder

We have a small cattery located in the Dallas, Texas area and have been raising Persians and Himalayans for over 20 years.
We carefully select our breeders for health, beauty and temperamemt in accordance with the CFA Standards. This is evident in the many Distingished Merit, Grand Champions and Champions found in our cats' excellent pedigrees. Our cats are raised in our home as part of our family and are loved and petted from birth. We guaranty our kittens to be healthy and give them the appropriate shots for their age. All of our cats have been screened for the contageous diseases and are kept up-to-date on the necessary vaccinations.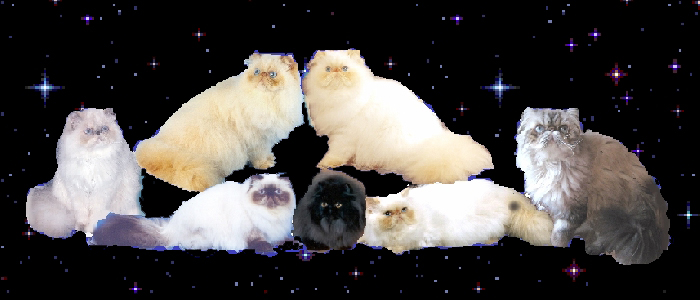 We support the CFA and strive to uphold their standards. If you would like valuable information about cats, go to the CFA website.
Go to Cat Fancy Association website
---
Home | kittens| New Arrivals| Male Cats | Female Cats | Photo Gallery | Quick Pick |

Copyright © 2009 -